Upgrade set for Tamiya HMS Repulse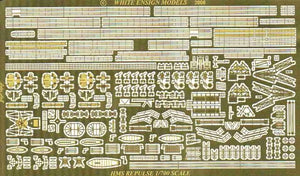 WEM 1/700 HMS Repulse (PE 780). For the Tamiya kit. 
Contains railings for: bow sections, foc'sle sections, mainmast starfish, catapult forward and aft, lower forward superstructure, parts B2, B19, B31 and B43, quarterdeck aft sections, canvassed and open upper boat decks, canvassed and open flag signal decks, lower boat deck, upper and lower aft superstructure, forward superstructure 02 deck,; foretop yardarm foot ropes, anchor chain, 27' whaler cradles, rudders, oars and thwarts, anchors, mainmast DF antenna, foretop signal platforms, crane base frame, foretop upper yardarm supports, main crane jib, crane hooks, 8-barrel pom-pom assembly, 20mm single oerlikons, quad .5" MG mountings, main director arm supports, port vent box boat cradles, jack and ensign staffs, port and starboard vent boxes, boat cradles, foretop light and antenna, aft HACS director supports, mainmast starfish assembly, maintopmast platform assembly, upper boat deck outer cradles, forward and aft funnel cap grilles, lower 284 radar antenna, upper boat deck centre cradles, forward and aft accommodation ladders, davits and handrails, quarterdeck officers' stairs, main crane rigging, thwarts, rudders and oars for 30' gigs and 32' cutters, sea boat embarkation nets, crane jib stowage cradle supports, Walrus amphibian fittings and launch cradles, 42' launch thwarts and rudder, bridge windows, vertical ladder stock, boat davit rigging, inclined ladders for midships, flag signal deck/bridge, part B37 and some stock, 30' gig cradles and searchlight lens crosses.