Type 23 frigate upgrade set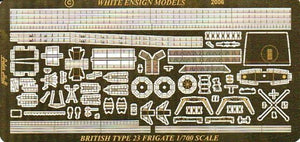 WEM 1/700 Type 23 Frigate (PE 776). From our HMS Norfolk kit. Includes parts list only, no detailed fitting instructions. 
Contains 3-bar RN standard railings, 3-bar short length railings, shaped fo'c'sle railings, liferaft canister racks, funnel gaff, maintopmast antenna, flight deck panel, forward platforms (late fit), forward platform supports, midship deckhouse platforms, boat deck supports, glidescope indicator, 30mm gun deck safety nets, 1006 radar antenna, flight deck side safety nets, flight deck aft safety nets, ECM antenna array, mainmast yardarm stays, mainmast yardarm safety rails, mainmast ECM yardarm, fittings for kit part 10, foremast rear yardarm stays, foremast rear yardarms, mainmast yardarms, mainmast gaff, wire antenna spreader, foremast front yardarm stays, foremast front yardarms, 911 FC director platforms, foremast top platform, foretopmast platform supports, 996 radar antenna mounting, funnel crowns, 1007 radar antenna (late fit), SCOT radome platforms, 996 radar antenna face plate, Lynx helicopter parts, funnel aft plate, hangar roof light bar, anchor chain, vertical ladder stock, 911 director radar antennas, bridge roof DF antenna, bridge roof riding lights, boat cradles, RHIB sea boat roll frames, harpoon canister cradles, boat cranes, stowed accommodation ladders, binocular sights and fore and aft sensor mountings.