Queen Elizabeth Class battleships WW1 upgrade set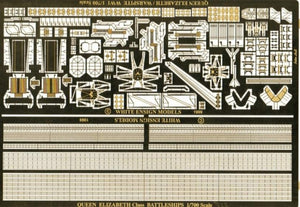 WEM 1/700 WWI Queen Elizabeth Class Battleship (PE 762). From our HMS Queen Elizabeth kit. Parts desription only enclosed - no detailed instructions. 
Contains 3-bar and 2-bar railings, anchor chain, stock vertical and inclined ladders, boat cradles for 50' Steam Pinnaces, 30' gigs, the admiral's barge, 30' motor boats, 27' whalers, 36' sailing pinnaces, 45' launches and 14' dinghies; wire braces, aircraft parts for Sopwith Camels and 1-½ Strutters, main anchors, jack staff, ensign staff, boat rudders & oars, assorted deck hatches and covers, sounding platforms, main boat crane rigging, mainmast starfish assembly, stove pipes (tripod type), aft accommodation ladders, ammunition locker covers, small and large boat booms, between funnel catwalk, starboard forward accommodation ladder, watertight doors, port forward accommodation ladder, 3" AA guns, pelorus posts, binnacle, range clocks, forward starfish assembly (Queen Elizabeth), funnel cap grilles, aft seaboat davits, small boat anchors, stream anchors, loading davits, lifebuoy racks, gun barrel flying off ramp, aircraft turret platform, main seaboat davits, stove pipes (type 2), foremast rigging, foremast topgallant, mainmast upper rigging, mainmast upper yardarm, splinter matting (stock), mainmast gaff, aft searchlight platform braces and seaboat scramble nets.