North Carolina class upgrade set for Trumpeter kit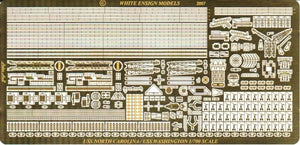 WEM 1/700 USS North Carolina Class (PE 774). For the Trumpeter kit. 
Contains Fore deck, mid section railings & stern section railings; stock 3-bar & 2-bar railings, 3-bar railings with netting, aircraft catapult assembly, Mk 12/22 fire control antenna assembly, stock vertical ladders, anchor chain, floater net baskets, fire hose points, Mk 3 FC radar antenna, funnel cap grilles, Mk 13 fire control antenna end caps, Mk 29 radar antennas, fore funnel aft platform, leadsman's platforms, boat crane jib, crane hook & rigging, tall aft Mk 12 antenna mounting, early & late mainmast yardarm rigging, assorted doors, TBS antenna mountings, anemometers, maintopmast platform, foretopmast platform (late fit), mainmast SG radar antenna assembly, foremast compass platform, mainmast lower platform, foremast head platform, aft funnel catwalk assembly, fore funnel catwalk assembly, bridge front antennas, mainmast lower stays and outriggers, CXAM -1 antenna platform, SG radar antennas, aft main director forward crossbrace, CXAM-1 radar antenna assembly, whip antenna brackets, catapult launch trolleys, accommodation ladder, accommodation ladder davit, accommodation ladder handrails, inclined ladders, aircraft crane hooks, aircraft crane jib, aircraft crane side support brace, aircraft crane rear support brace, OS2U kingfisher parts, SK-2 radar antenna assembly, SC-2 radar antenna assembly, foremast yardarm handrail, wire cable reels, 20mm single oerlikons, flag deck platform extensions and Mk 8 FC antenna service walkway.