Lifecolor White Wood acrylic paint set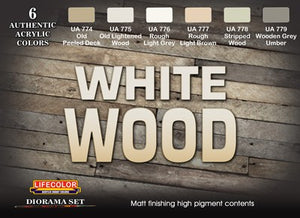 SKU: LC38
Sorry, this item is out of stock
Water soluble acrylic colours for modelling and hobby. LifeColor is excellent for paint brushing or airbrushing on plastic, resin, metal, vinyl, wood, cloth and ceramic.
This set includes:
UA 774 Old Peeled Deck
UA 775 Old Lightened Wood
UA 776 Rough Light Grey
UA 777 Rough Light Brown
UA 778 Stripped Wood
UA 779 Wooden Grey Umber
Use this set of six colours to paint weathered or new white wood effects. They contain high pigment colours to paint wooden sleepers, carriages, buildings, bridges, structures, floors, naval decks, masts, sea defences, wooden furniture on weapons, flat-bed trucks, telegraph poles, fences, farm wagons, aircraft propellers, wooden airframes and any other wooden parts of scale models.
You may mix these matt colours with Tensocrom Medium to make them into weathering glazes or simply use them as high-coverage matt colours.