HMS Warspite / Malaya upgrade set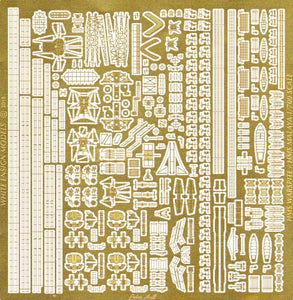 WEM 1/700 Scale HMS Warspite and HMS Malaya (PE7119)   Fits the Trumpeter kits.
Contains 88 different types of photo etch parts for these kits incuding railings (individually sized where needed), Type 650 jammer antenna, foremast starfish (for Malaya and for Warspite 1937 and 1942), 8-barelled PomPoms, 0.5 Vickers quad machine gun mountings, funnel cap grill for Malaya, funnel interior plate for Warspite, crane jib assemblies, crane base assemblies, Type 282 antennas, compass platform canopy, Admiral's stern walk assembly, Type 281 antenna, Headache antenna, boat deck supports for Malaya, Walrus fittings, launch cradles, anchor chain, leadsman's platform and much, much more. This set will detail either Malaya or Warspite.