HMS Tiger battlecruiser upgrade set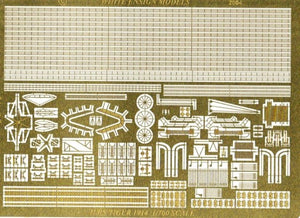 WEM 1/700 HMS Tiger (PE 757). WWI Battlecruiser, for the Combrig kit. 
Contains standard 3 bar railings, 2 bar platform railings, anchor chain, foremast top yard, foremast starfish aft footropes, foremast starfish assembly, foremast starfish forward footropes, mainmast starfish (late fit), 50' steam pinnace cradles, 45' launch cradles, 32' cutter cradles, 27' whaler cradles, 14' dinghy cradles, splinter matting, 30' gig cradles, 25' cutter cradles, mainmast lower yardarms, stern walk platform, stove pipes, stern walk fence, stern walk canopy, inclined ladders, funnel cap grilles, 3" AA guns, ammunition locker hatches, assorted deck hatches, sea boat davits, starboard accommodation ladder, compass binnacles, range clocks, secondary crane rigging, vertical ladder (stock), main crane rigging, main crane hook, aircraft flying off platform, sounding platforms, accommodation ladder port, jack staff, ensign staff, stern anchor, sea boat scramble nets, main anchors, 32' cutter oars and rudders, 27' whaler oars and rudders, 30' gig oars and rudders, 45' launch oars and rudders and watertight doors.