Lifecolor weathered wood paint set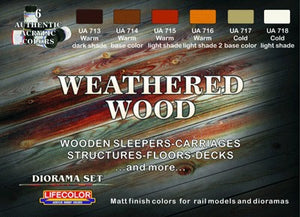 Water soluble acrylic colours for modelling and hobby. Life Color is excellent for paint brushing or airbrushing on plastic, resin, metal, vinyl, wood, cloth and ceramic.
This set includes:
UA 713 Warm Dark Shade
UA 714 Warm Base Colour
UA 715 Warm Light Shade
UA 716 Cold Dark Shade
UA 717 Cold Base Colour
UA 718 Cold Light Shade
Use this set of six colours to paint all weathered or new wood effects. They contain high pigment colours to paint wooden sleepers, carriages, buildings, bridges, structures, floors, naval decks, masts, sea defences, wooden furniture on weapons, flat-bed trucks, telegraph poles, fences, farm wagons, aircraft propellers, wooden airframes and any other wooden parts of scale models.
You may mix these matt colours with Tensocrom Medium to make them into weathering glazes or simply use them as high-coverage matt colours.
Using LifeColor
Clean surfaces to be painted
For airbrushing, dilute the colour to a milky consistency using water or LifeColor Thinner.
Airbrush at very low pressures. (Iwata airbrushes give the best performance and atomisation at low pressures.)
Apply colour in thin coats with a brush or airbrush
Allow to dry completely between coats
Clean your airbrush with airbrush cleaner and flush through with water